Podcast: Download
It is said that 25% of Dutch population suffers from loneliness. According to my understanding 100% of us are lonely, depressed and are at the edge of insanity. The only difference in between those who really experience it and those who APPARANTLY don't is the strategy they are using.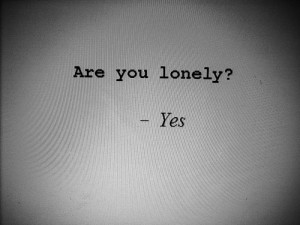 Why do we feel lonely ? Those of us who are not feeling lonely jet, have occupied our self with so much garbage that we never are really confronted with our loneliness. We are busy all the time, with our work, studies and our social activities. We have no time to get in contact with our loneliness. It is a strategy and a fear at the same time to avoid contact with our self.
If we would take away all our activities just for one month and bring us in a situation in which we are confronted with our self. Where we would be forced to look at the poor quality of our most important relationship, the relationship with our self. We would notice it is a marriage which has become suicidal.
For me it is not a small accusation on a society in which it is said that 25% of the people are lonely!
How can we feel lonely even when we are surrounded by 1000 of people continuously? It is like one loneliness is meeting other loneliness in all our activities. One of the root causes we feel lonely is the superficiality of relationship we experience. It is not so strange that we admire programs like"friends" , "sex and the city" and a like. They represent a higher form of superficiality with which we as society have started to identify. We need to look carefully at how we relate to each other. The quality of relationships at society level can only increase if we are ready to improve our relationship with our self .
If we do not increase the quality of relationship with our self we as society are bound to become lonely , depressed and insane.
Official week against loneliness.
(I am interested in your opinion about this tiger Philosophy, please let me know what are your thoughts about it)