Podcast: Download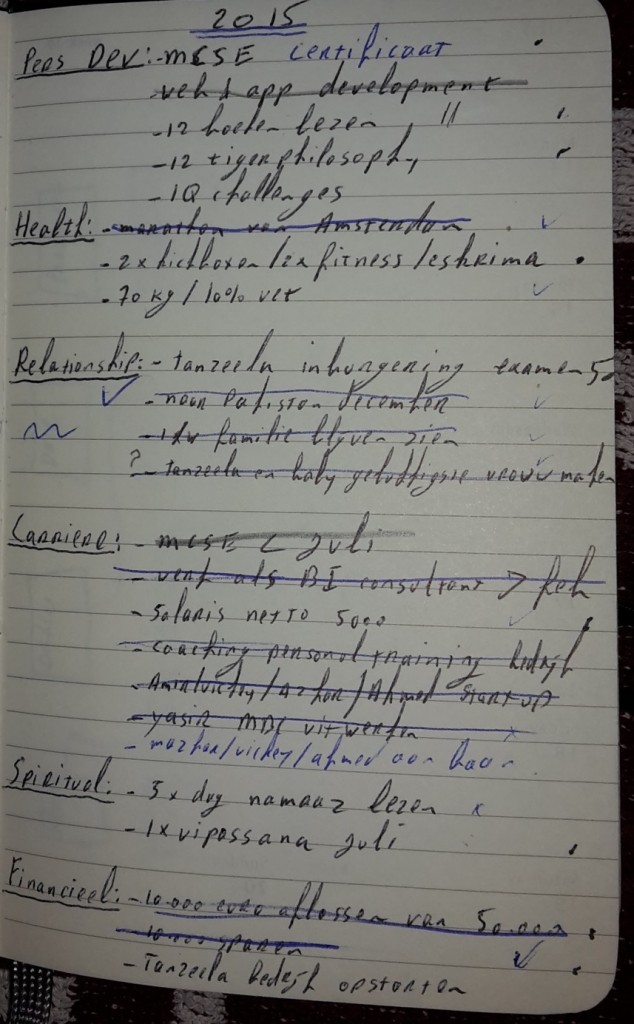 I love this period of the year, it allows me to assess my hard work during the year. When we set goals we are in an orgasmic state. In that state there are no limits and everything is possible. It feels like the summer but when the winter comes with it's hardships, every next step becomes havier and one falls down into the post orgasmic state. In which the fire and the desire are extinguished. We have to train our self to survive the winter with the knowledge  that the  summer is coming.
I would like to go through my own goals of 2015 and evaluate them goal by goal. It is interesting to see what mistakes I have made and what improvement can be done for 2016 goals.
I use the word SMART which stands for (Specific, Measurable, Achievable, Relevant,Time-bound)
Personal development:
    1.  MCSE certification (not achieved), no clear study material from Microsoft to learn from.
Webb & app Development (not achieved), with my new job and the amount of time needed to learn this, it was not realistic to achieve this in 2015.

Read 12 books (partially achieved) I read 8 books this year, I was not specific enough which books to read, there is a big difference in reading Karl Marx or Harry Potter.

Write 12 tiger philosophies (partially achieved), because I want them to be really good, I get into the never start syndrome.

Finish the book IQ challenge (not achieved), takes too much time and not really a relevant goal.
Health:
Run the Marathon of Amsterdam 42km (achieved), it was hard work.

Train at least 2 times fitness and 2 times kickboxing every week, (partially achieved), this is not a SMART goal.

Weight 70kg and body fat of 10% (not achieved), I was not disciplined enough to stick to my diet.
Relationship:
Help my wife to pass her exams (not achieved), she hasn't passed her exams yet.

Send my wife to Pakistan for holiday (achieved).

Keep visiting my family ones a week (partially achieved), not a SMART goal.

Make my wife happiest women (partially achieved), not a SMART goal, difficult to measure 🙂
Carrier:
Find a job as a Business intelligence developer (achieved).

Earn salary of 5000 euro net (not achieved), I am confident I will next year.

Start my own coaching company (not achieved), I have parked this goal, it is too much work at the moment in this  period of my life.

Start a start-up with friends (not achieved), although we made a good effort to do so.

Help friends to find a job (not achieved), although most of them are working now.
Spiritual:
Pray 5 times a day (partially achieved), not disciplined enough.

Go for 10 days to Vipassana mediation Kamp (not achieved), with the baby it was difficult to do that this year.
Financial:
Pay of 10.000 euro of my 50.000 euro debt (achieved)

Save 10.000 euro (achieved), I don't have direct access to the money but it's there.

Help my wife to start a company (not achieved), not SMART enough.
I can look at this year and say, "so many goal  not achieved",  or I can say, "I have run the full marathon, I have paid of 10000 euro of my debt, I have great job with good  perspectives and I am full of fire  to achieve my 2016 goals".
Remember "Success requires no Explanation and failure permits no Alibis."
The question that arises, what is success?