I received this book 2 years ago on my birthday. Voltaire is a pseudonym used in this book. This book is assembled like a dictionary, every word can be seen as a chapter and is not sequential nor has any chapter any direct relationship with each other.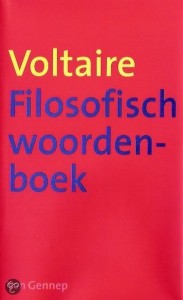 In this book Voltaire discusses subjects like, Trinity, Theism, Superstition. morality, virtue, god, love, compassion, fanaticism, motivation… It is an ongoing assemblance of subjects which are related to religion and morality. His major focus lies on Christianity and the bible. He discusses many of the books of bible in great detail, like job, genesis, psalms, Jacob.
Voltaire ridicules the religious thinking and the scriptures in a very witty way. His ridicule comes out of a deep understanding of cultures, languages and a thorough study of religion history and scriptures. He points out falsehood in the Christianity which are accepted buy the church but cannot be traced back into the scriptures.
He explains how many traditions which existed before the religions became part of the religions like circumcision . His sharp remarks and a funny way of writing makes this book a master piece. This book created a revolution in France toward Christianity and religious thinking and has become a  source of inspiration to many other philosophers.